Today I'm pleased to have Jody A. Kessler here to chat about paranormally goodness stuff while I introduce her new release, Angel Dreams, book two in her An Angel Falls series.
New Release from Jody A. Kessler – Blog Tour & Giveaway! Both novels in this award-winning series will be on sale for only .99 cents for a limited time.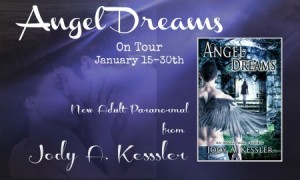 Supernatural boundaries will be crossed as Angel of Death, Nathaniel Evans, risks his eternal soul to save the one he loves, the paranormally gifted and nature-loving, Juliana Crowson.
While working with a new client, Nathaniel finds out that pissing off a demon-wielding warlock in order to help a suicidal teen with misplaced sexual tendencies may be the last thing he ever does as an angel. Unable to stand aside, Juliana's involvement in Nathaniel's new case quickly develops into a misadventure with gun-toting bikers, table dancing, and a shamanic exorcism performed by her temperamental Native American friend, Chris Abeyta.
Can Nathaniel and Juliana's love endure blood-letting rituals in the forest while helping a terrified teen find the will to live, or will fate and the rules of the afterlife tear them eternally apart?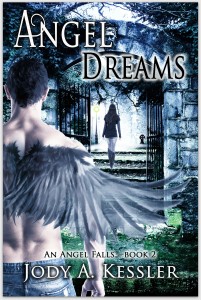 Available in Paperback & Ebook on Amazon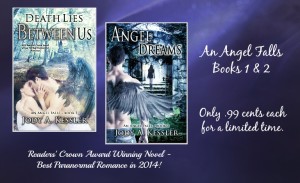 Now here she is to chat paranormal fun stuff! Take it away, Jody!
Darkly Delicious Definitions – Defining the Paranormal
Welcome to Defining the Paranormal with non-expert, Jody A. Kessler
First let me acknowledge you, the reader. Hello! If you're here, then I might assume one of two things about you:
1) You're related to me, or are a very close friend, and are somewhat interested in knowing what keeps me so busy all day, every day, for months at a time. —In case you didn't know, being an author is a never-ending job!
Or
2) You're interested in the paranormal and the supernatural world – and possibly reading about these delightful mysteries of the unknown.
As I've stated above, I am not an expert. However, I have a lifetime of study and personal experience dealing with the supernatural. It wasn't unusual to find me as a young girl, looking for ghosts, reading tarot cards, and playing with a pendulum for fun. (Don't even get me started on the Ouija board experiences. Perhaps my mom was right after all when she said, "Don't play with that evil thing!" Note to Mom – Thanks for getting rid of it for me.) Anyway, was this normal behavior for a child? I'm not sure. All I know is that I have been fascinated with the paranormal, supernatural, and metaphysical world for as long as I can remember.
How about you? Are you a believer? Or a skeptic? Perhaps you scoff at such things as spirits and angels. Well, that's perfectly fine. We all have the right to believe whatever we want. And to be honest, I have spent many hours contemplating and questioning my reality and what is truth and what is fiction. Being an author of fiction, this line is crossed daily, but I continue my search.
So here it is – My first collection of Definitions of the Paranormal.
(Please dispute me wherever you see fit – or better yet – add your definition in the comments below. I'd love to hear from you!)
Spirit vs. Soul – The soul is your eternal self. Spirit is the definition of when your soul is within the confines of your body. Hence you have an eternal soul, but you also have an internal spirit.
Angels –For thousands of years people have believed in 'something' or 'someone' watching over them and helping them in times of need or distress. Most of the time angels are there for no other reason than to be by your side. What I've read and learned is that there are many classifications of angels, and they have different domains. Here are a few of the more common ones: Archangels, seraphim, cherubim, guardian angels, death angels. – The definition of Angel really varies depending on who you ask. Mostly, I like the idea of angels no matter who they really are, or what you call them. I believe they are helping, guiding, and making our universe a better place.
Aura – In terms of parapsychology the aura is a subtle, luminous field of energy around any living thing – like a halo. I have found that many people don't believe that auras are real. Why? I can only guess that it's because they can't see it. My argument is this, you can't see the wind and yet everyone believes in it. A light bulb glows and creates an aura that we can all clearly see, and usually feel its heat, and sometimes even hear its hum. It's easy for us to believe in the existence of a light bulb. Energy is measurable. Human beings are energy factories. We're constantly creating heat and metabolizing our food into useable energy for our bodies to function. Now just imagine how much more energy a human body produces over that of a light bulb. Our field of energy extends beyond the skin. Just because you can't see it with your eyes, doesn't mean it's not there. However, many people can see and or feel the aura. And, it's not just body heat they are sensing. I've also talked to people that see the auras of animals and plants.
Ghost vs. Place Memory – Ghosts are spirits without their body. Okay, so you're probably saying, "Wait. Isn't that called a soul?" Yes and no. The ghost still has an attachment – usually emotional — to the body, but unfortunately, the body is dead. Hence the reason that many ghosts (but not all) will resemble their previous human form.
A place memory can also resemble human form – like ghosts – but the spirit has departed. A place memory is a strong energy signature that leaves an imprint on space. It reminds me of the quintessential 'lady in the window'. The story about a woman who stood at her window for forty years waiting for her lost love to return from war. To this day, a hundred years later, you can still see her standing there. — Does this story sound familiar? This is the classic version of a place memory. The lady's spirit is gone, but she left her imprint on time and space. There are many documented cases of place memories and they are not always visual. Auditory and olfactory place memories are also common.
Incubus & Succubus – I have read documented testimonies about real encounters with these supernatural entities, and the history goes all the way back to medieval times. I don't have personal experience with this – Thank Goodness! – but I'll give you a brief definition from what I've learned. Whether they are real or not — the testimonies or the entities — I can't say. All I know is, I truly hope I never encounter one.
Incubus – a male demon that has sexual intercourse with women – usually when they're asleep.
Succubus – the female version of an incubus.
That's it for now. There are many books on each of these subjects. I've actually read quite a few. If you're truly interested in learning more, do your research well and only take the bits and pieces of information that feel true and right to you. You can also drop by my blog for more definitions in the future at JodyAKessler.com. Be on the lookout for Tools of the Trade – A Hands-on Approach to the Paranormal.
About the Author
When Jody isn't navigating the terrain of her imagination and writing it down, she can be found exploring the wilderness of Colorado with her family, or in the kitchen baking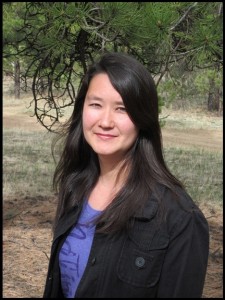 cookies & brownies – and then trying not to eat them all. She's passionate about continuing to learn and reads anything and everything that catches her interest. Jody is a full time mom, a Reiki Master, and has taught Hatha yoga for over a decade.
Jody's debut novel, Death Lies Between Us, is the winner of RomCon's Readers' Crown award for best Paranormal Romance in 2014. She is currently working on a historical time travel series set in Montana in the 1860's. The first book in the series, The Night Medicine, will be published in March 2015.
Jody A. Kessler invites you to visit with her at: www.JodyAKessler.com, or on Facebook & Twitter
For a chance to win a $10 amazon gift card or a signed paperback of the Death Lies Between Us (An Angel Falls, #1) please enter the rafflecopter!
a Rafflecopter giveaway

To see a complete list of tour stops, please click here: http://jodyakessler.com/newsevents/